The IMST 24 GHz FMCW SENTIRETM radar module sR-1200e is a plug & play radar solution. It features a single chip-IC from Infineon for the radar functionality. The 24 GHz Radar Module sR-1200e has one transmit, two receive antennas/channels and an Ethernet interface. Thus, it is well suited for distance, angle and speed measurements in FMCW or Doppler mode. The Radar Module sR-1200e may be used on UAVs (civil drones) also. It can be equipped on robots for collision avoidance, industrial vehicles for safety measures, general collision avoidance measures and/or distance metering, too. Furthermore, this radar is well suited for area surveillance including detection and tracking of persons (intruders).
sR-1200e for Intruder Detection and Tracking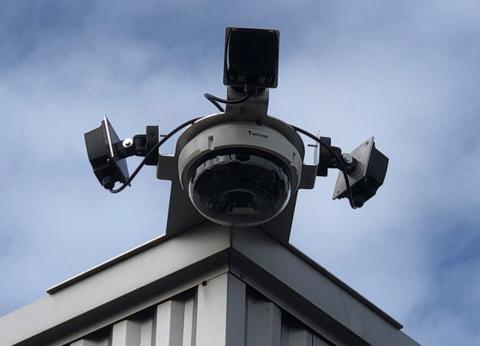 Teaser: The radar module "sR-1200e" is optimized to detect and track intruders who have entered a restricted area. This intrusion can lead to a security risk. When a target has been detected, the radar triggers an alarm message that will be sent to a security centre to initiate appropriate countermeasures.
Use Case: One or more radar sensors can be installed to observe an area which should be protected against unauthorized entry. The viewing area of each sensor can be adapted to specific sectors in distances and angles. All sensors together are able to monitor wide areas of private, company or public properties. Radar preserves the privacy right of people. In contrast to video surveillance and recording of photos or streams radar does only collect anonymous data without the capability of identifying individuals. This is another important aspect and advantage of radar data. Moreover, radar can be combined very useful with video observation to exhibit the benefits of both sensor types. One sensor is able to cover an area up to 50m distance with a viewing angle of 60°. The radar is operating in the (license free) 24 GHz ISM-band. Persons can be detected in distance and angle, so that a precise determination of the position and direction of movement is possible. The radars can follow several targets and transfer direction and speed information to a security center.
Unique Features: small size, robust and water-resistant housing (IP65), cost-effective, precise measurement, Ethernet interface with PoE, signal processing and intruder detection and tracking algorithms integrated, arbitrary sensors can be connected via LAN, it can be operated like a "Web-Cam", is optimized for operation with a specific Control Unit, applicable for security enhancement of video surveillance installations, radar surveillance preserves personal rights by recording anonymous data only
Additional Services: IMST offers these radar services: selling and support of developer kit, technical training for radar applications, installation support, hardware and software adaptations upon customer's requirements, new features and developments for future radar releases.
Installation: The radar has to be connected to a Local Area Network (LAN) with Ethernet communication interface and RJ45 connector. DC power comes from Power-over-Ethernet (PoE) with an operating voltage of 44 V to 54 V. If PoE is not available in the LAN, a standard switch or power injector can be applied. The radar can be operated with the software SenToolTM or with a comprehensive set of commands for advanced users and operators.
Users of the radar intruder detection system are public institutions, companies, organizations and people in general, who have the demand for protecting their outdoor properties. Furthermore, security companies, which provide services in protecting real estates and assets, belong to the group of installers.
Product Data Sheet
sR-1200e
More details about this product can be found in the product data sheet.
Data Sheet
Declaration of Conformity
sR-1200e
CE Approval incl. RED (2014/53/EC): Declaration of Conformity for sR-1200e.
Declaration of Conformity